The Gateway City has plenty to offer its visitors! The information and links below provide useful information to help you get the most out of your stay in St. Louis during the meeting.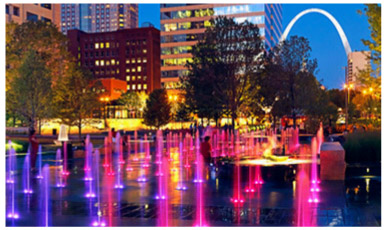 *There is also a St. Louis Visitor Center booth located at the Union Station Mall inside the Hotel that can provide information and assistance.
Getting Around Town
MetroLink and MetroBus provide easy access to attractions and shopping districts. MetroLink has a stop just 1 block south of the hotel and can get you to the arch and downtown in just two stops. www.metrostlouis.org
Historic Union Station
Our Meeting takes place inside the beautiful and historic St. Louis Union Station, to learn more about this History of the Station click here (www.stlouisunionstation.com)
Nearby Dining
http://www.marriott.com/hotels/restaurants/stlus-st-louis-union-station-marriott/
Maggie O'Briens (0.1 mile)
Hard Rock Café (onsite)
Houlihans (onsite)
Landry's Seafood House (onsite)
St. Louis Bread Company (0.8 miles)
Pappy's BBQ (1 mile)
Mosaic Modern Fusion (1 mile)
Wasabi Sushi Bar (0.8 miles)\
Tony's Restaurant (1 mile)
Crown Candy Kitchen (2.3 miles)
T.G.I Friday's (.3 miles)
Schlafly Tap Room (.4 miles)
ST. LOUIS SHOPPING
There is shopping right inside the hotel at the Union Station Mall.
For additional Shopping information click here
St. Louis Neighborhoods
St. Louis is a city divided into 79 unique neighborhoods. Each neighborhood has its own their diverse cultural attributes, dining and entertainment options.
The Hill is situated between Manchester Road to north, Southwest Avenue and Columbia to the south, Kingshighway on the east, and Hampton on the west
Features authentic Italian cuisine
Favazza's
Zia's on the Hill
Cunettos House of Pasta
Soulard's boundaries are 7th Street and Broadway to the Southeast and I-55 to the West and North. Exciting venues can be found on Lafayette, 8th Street, 9th Street, Geier & Russell
Features Soulard Farmers Market, variety of restaurants, bars and live music.
McGuirks
Joanies
1860s Hardshell Café
Lewellyns
Hamerstones
Molly's
Chavas
International Tap House
One of the Central West End's major advantages is its central location. The CWE is defined by Delmar Boulevard to the North, Interstate 64 to the South, North Vandeventer Avenue to the East, and Kingshighway and Union Boulevards via Lindell Boulevard to the West, Check out venues on Euclid Avenue, Maryland Plaza and McPherson Ave
Features fine restaurants, multi-cultural galleries, specialty shops, antiques, bookstores, coffee shops
Cathedral Basilica of Saint Louis is located at 4431 Lindell Blvd
Cafê Eau @ Chase Park Plaza
Chase Park Plaza Cinema
Located just north of the Gateway Arch, Laclede's Landing is downtown St. Louis' oldest district and only riverfront entertainment and dining destination encompassing a nine-block area.
Features over twenty great restaurants, clubs, shops and attractions
Gateway Arch
Big Bang
Joey B's
Morgan Street Brewery
Forest Park, officially opened to the public on June 24, 1876 and is one of the largest urban parks in the United States. It is approximately 500 acres larger than Central Park in New York.
Features:
Jewel Box
Boat House
Steinberg Skating Rink
St. Louis Zoo
St. Louis Art Museum
Missouri History Society
St. Louis Science Center